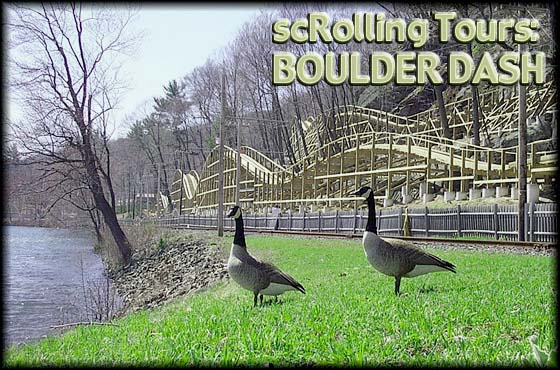 "MAN…this is something I've never, ever seen before…"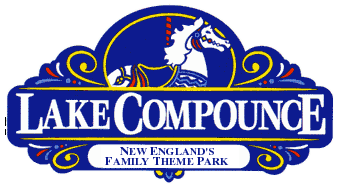 If you've never been to Lake Compounce, the country's oldest amusement park, there's a historically mesmerizing adventure in store for you in this picturesque New England lakeside setting of Bristol, Connecticut. In a time when theTheme Park industry, in certain circles, seems to be losing the essence of building on Tradition, Lake Compounce's attention to such an ideal is alive and well. It's a very exciting time for this rustically situated amusement park, as they near the year long construction on what could very well be New England's most ambitious single Thrill Ride Project to date…
Click click click click click……

A marvel of design and a wondrous view for the eyes, an unprecedented first ever *Mountainside* creation of Custom Coasters International is packed with an incredibly dynamic vertical journey. For all thrill-seekers alike, it undoubtedly promises to usher in a new, more rugged, natural millennium force! Prepare to add this fierce 4,500 feet joyride through the boulderous woods to the likes of every favorite, most exciting coaster experience you can stir up. For BOULDER DASH will further solidify Lake Compounce as one of New England's Family Amusement Park MUST VISIT destinations! They've got a *Wildcat*…They've got a *Zoomerang*… But ladies and gentlemen, girls and boys…BUCKLE UP! Because there's a BOLDER mountainside coming to life in the beautiful New England woods!

Tale of the Rails: A scRolling Preview
Head Chopper: Redefined!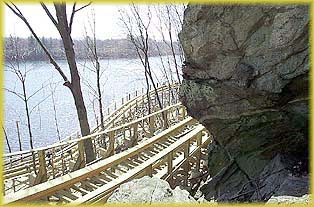 First off, Custom Coasters, world famous for a host of astounding thrillers, designed BOULDER DASH very specific to the topography upon which it would sit. Hence, as the first ever Mountainside Terrain Single Out And Back layout, it is tiered and laid out intricately to the natural curvature of the mountain. As you can see below, there have been new challenges C.C.I. construction foreman Ernie Ottoson and his AMAZING crew have overcome to bring this coaster to Thrilling Eve!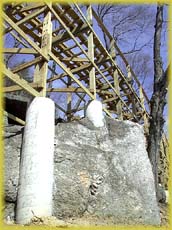 The Out portion sits higher up on the mountain than the lower, return trip. As will become evident, this wildly grand, sprawling layout boasts an impressive host of ride moments. It's BIG, and it's going to MOTOR. It is a ride PACKED with nonstop, laterally charged hills, broken up by a multi-dipping turnaround that will produce an estimated 48 M.P.H. blast into the Air-Infested return run home! How's that for rockin'?

Wanna know more? Wanna see more? Well, scRoll right down and watch out for falling ROCKS!! ;-)

S

PECIFICS: On Paper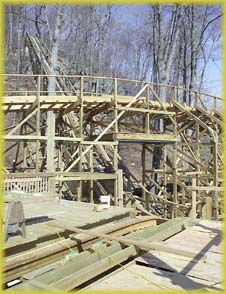 Designer:

Custom Coasters International

Type & Layout:

Wooden-Terrain: Single Out & Back *Southern Yellow Pine*

Rolling Stock:

Philadelphia Toboggan Company (6 Car Trains)

Total

Track Length: 4,500 Feet

Lift Hill:

145 Feet

First Drop:

115 Feet

Top Speed:

60 M.P.H.

Ride Duration:

2:00+

Scheduled Opening:

May 27, 2000

Layout Illustration Courtesy of

Bret Clancy. Thanks Bret!

Trip Out :

The look of the track's run out to the turnaround is, simply, in a word, STUNNING. It's just a FEAST for the eyes. As I got up close and personal with the beautiful structure, what impressed me most was the apparent *Slithering* lateral qualities that exist throughout the myriad of hills. This is something that, from a distance I wasn't' able to appreciate the same way. In addition, much of the tracking is just 10-20 feet off the mountainside; really incredible. It looks to be geared towards maintaining speed, yet is coupled with that continuously radical veering in direction with virtually each hill. That being said one can only imagine that we'll be in for one heck of a ride! And did I mention….AIR???? ;-)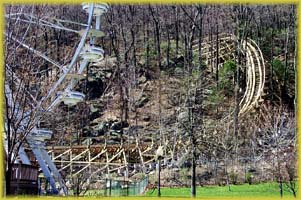 The 145 feet trip up the mountainside crests in a right turn and a brief rolling pause, to raise that anxiety level to the peak riders' happy fear. Then…IT HAPPENS!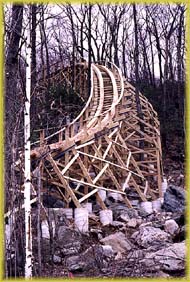 The KILLER first drop will send riders plunging a twisting115 feet, tapering off at 5 degree angled run-out that will be sure to kick the PTC trains into an unbridled frenzy.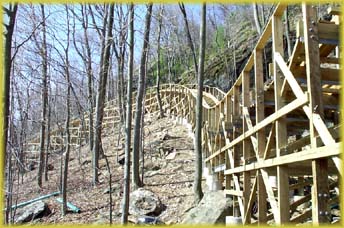 Flying into hills 2 and 3 at an estimated 60 M.P.H. will surely be absolutely exhilarating, as the tightly webbed track hugs the terrain, flying past boulders just a few feet away…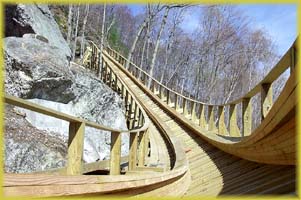 As the train bottoms out of hill 3, it immediately doubles up over a wicked crest. The bump before cresting the top, shown below, looks to be the first real definitive pop of air on the ride, to me. (Left that picture to your imagination though…hmmmm ;-p)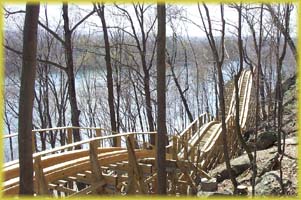 Upon cresting the double up, the train will then navigate a quick and quirky double-dip; and then will jump right back up. THIS, folks, is when things really begin to cook, as BOULDER DASH Control signals us clearance for LIFTOFF!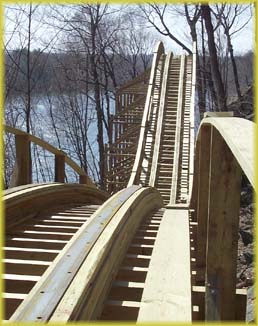 Leading into what I affectionately term the *Ringer* of the 1st half of the circuit, the crest after the double-dip leads into a mid course drop *Hill 7 into curve 8* that needs NO words. You can see it in the pictures. It's going to be one heck of a glorious launch to Planet Negative G!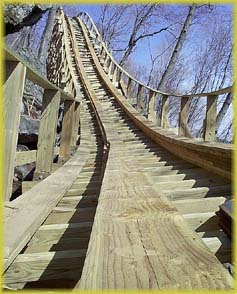 From the bottom, looking up, it's a definitive mid-course victory for fans of the lofty hills…and steep enough to have just THAT type of *Negativity* you dream about. Can you dig it, G?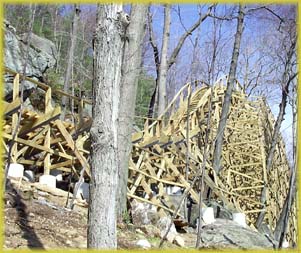 Following this beautiful mid course drop and a brief straightaway the train, once again, doubles-up, and then enters into a really cool speed-ramp type drop. I was impressed how C.C.I. Designers were very effective in providing a truly unique blend of different types of hills on the *Out* trip of BOULDER DASH.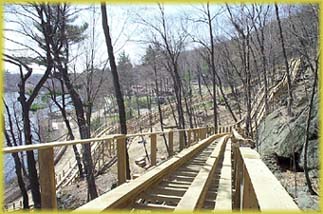 Bottoming out into a quick kick to the right, the train immediately delivers riders with another brilliant double-up *That's 3 on the Trip out folks* and sources are estimating a substantial speed over the crest leading...to…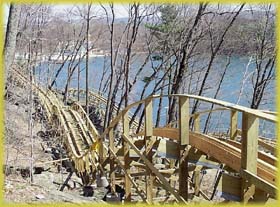 None other than the wicked…

T

rip Back :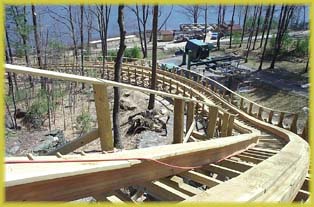 The Turnaround is one moment of the ride that looks like it's going to be a really heavy in the lateral G department. Once again, man a coaster buff will be delighted with this. What makes it interesting, though, is the way it plateaus, mid-drop, and then slams down again, into it's airtime filled race back home.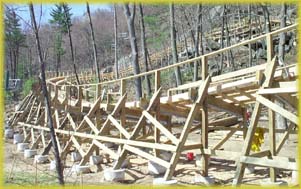 I feel it important to remind, mid-way through, that throughout the entire course of the ride, the views are no less than breathtaking! I firmly believe that few new coasters for the 2000 season will offer a visual experience as compelling than this one…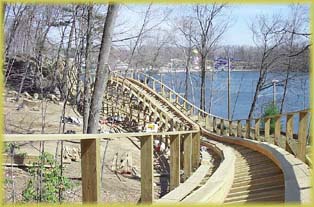 As the DASH pulls out of the turnaround it will immediately begin it's assault on a righteous line of bunny hills that, with the carried speed, will be nothing short of a bouldering bronco ride. My advice to any and all out there: If you hate airtime, then perhaps you should stay off of this ride…

J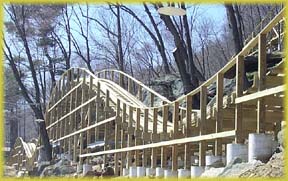 The hills, if you notice above by looking at the men assembled above next to the footers, are substantial, and should deliver Paul Bunyan's kind of AIR, and the ride should definitely deliver a really solid feel for riders!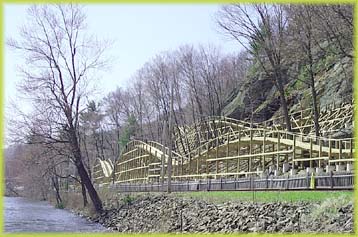 The beautiful trek back takes riders over 4 bunnies in total before hitting a most interesting maneuver…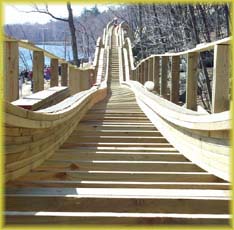 Taking a closer look at what appears to be a dead spot of track is, instead a wonderful element incorporated by many of the classics, as well as modern wood coasters: The Infamous Trick-Track!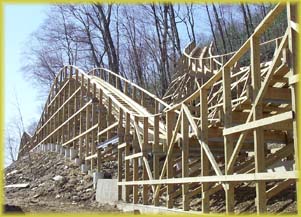 Racing out of the trick-track, riders are, one final time, tossed into one final double-up and then a beautiful finishing hill that should cap a brilliant return run CHOCK FULL of marvelously negative gravity!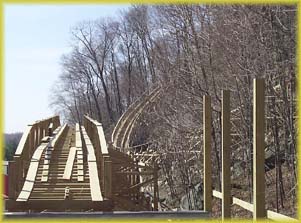 And a look at final brakes, which are even impressive to look at with that sweet, laterally sweeping, banking 3rd hill in the back ground! Don't forget that just off to the left…just out of view, is the lake; it is picturesque as it gets….PHEW!!!

J

So, what can one say about a coaster that upon cresting the lift, which itself will offer a beautifully scenic overlook of the park, has really NO dead track so to speak. As of now, it is without a SINGLE predetermined brake…ANYWHERE! Ernie Ottoson said that they would wait to see how that first train navigates the wicked, wooded journey before considering ANY brakes. And being estimated to finish with a speed topping 40 M.P.H. I need not tell one and all that if you haven't already, start making your plans to get to Lake Compounce to experience the East Coasts' next *Big Thing* in wood!
Credit where it's due…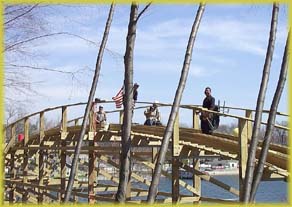 To wind this scRolling Tour down, I'd like to give kudos to the wonderful people who have made it possible for the enthusiasts, like myself to get very unique, behind the scenes perspectives of how coasters like this are constructed. The amusement industry, as a whole, should follow the lead of an elite group of parks who are opening their gates to share the evolution of some of the world's newest and greatest thrill rides.

A sincere and immense thank you to the generous folks at Lake Compounce: Specifically park PR contact

Richard Bisi and general park manager Tom Wages for making us part of the wonderful experience of seeing the world's first mountainside coaster rise to it's readiness to Thrill! To Ernie Ottoson and C.C.I.: For taking the time and being so friendly and informative with the monthly influx of coaster enthusiasts! Thanks also to A.C.E. assistant regional representative Peg Batcheleder for taking the organizational ball and running with it; and finally, Christian Lucht and Bret Clancy for originally pursuing the idea for Lake Compounce BOULDER DASH tours!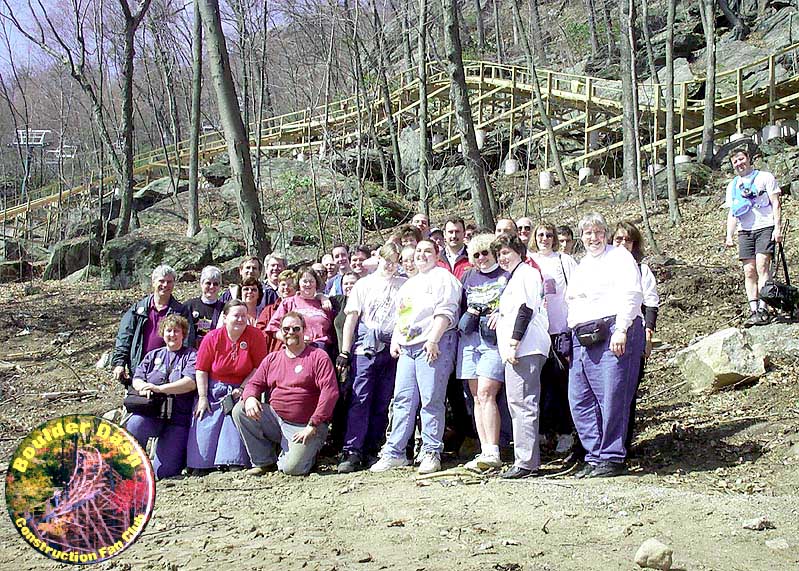 If you're interested in finding more information about Lake Compounce and BOULDER DASH:

And BY ALL MEANS check out Bret Clancy's outstanding BOULDER DASH construction site:

http://members.home.net:80/bretclancy/lc2000/

To see the Testing of the TRAINS, Click

Questions, comments, and feedback…

Please WATCH your step as you exit the Page!